Redefining Integrated Care and Behavioral Health EHR systems
Apr 23 , 2019
Redefining Integrated Care and Behavioral Health EHR systems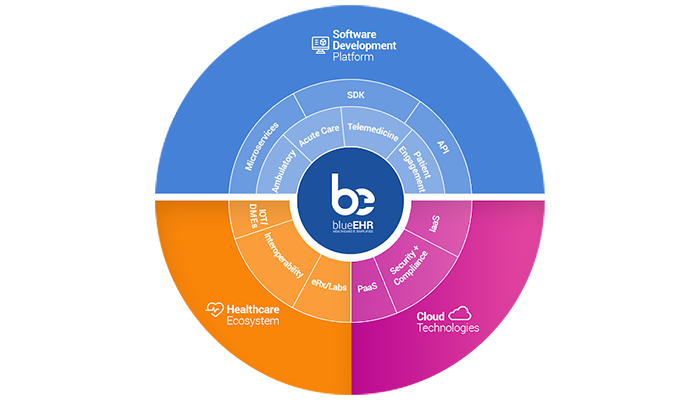 blueEHR raises the bar for Integrated Care and Behavioral Health EHR systems with their Health IT Platform as a Service that delivers a malleable, comprehensive and extensible solution.
"blueEHR understands the key drivers of an integrated care organization. We call them the 3 C's of integrated care, which are Care, Cash, and Coordination," says Shameem C. Hameed, CEO of blueEHR.
BETHESDA, MD. APRIL 23, 2019: blueEHR, pioneers in Health IT Platform as a Service with its product blueEHR-HITaaS,  announced the unveiling of their blueEHR – Integrated Care and Behavioral Health EHR System to the general public. The product has been implemented for marquee clients like Sanford Health, Southwest Human Development and others who need a flexible longitudinal population health and care management system.
blueEHR embraces cognitive design, which is the art and science of bringing harmonic geometry to a conversation. To put that in layman's terms – cognitive design is highly intuitive, making tasks simpler and ultimately reduces user-fatigue.
blueEHR is composed of a highly configurable suite of 34 modules covering ambulatory (including dental), acute care, telemedicine, patient engagement and analytics built on the latest cloud first-mobile first technology. It includes behavioral health, primary, and multispecialty components among others. An offline mode enables care providers to provide home and community-based services remotely and is a standard feature of this cloud-based system.
Most importantly, what differentiates blueEHR is the Health IT as a Services (HITaaS) component which is the first Platform as a Service for healthcare. HITaaS is the confluence of three dominant technologies critical to building and deploying cloud-based electronic health applications, namely:
● Cloud technologies
● Software development tools and methodologies
● Healthcare ecosystem
HITaaS is a revolutionary health information technology platform that allows organizations to rapidly deploy eHealth applications in about one-quarter of the time and money it might take to develop using current healthcare information technology approaches. HITaaS allows customers to expand feature sets and build additional modules to accommodate additional services and growth – essentially "future proofing" the system.
Mr. Hameed added, "As aging EHR systems exit the market and others begin sunsetting their obsolete products, behavioral health and integrated care organizations, particularly FQHCs, are going to want to take a bold step and look at emerging technologies like blueEHR-HITaaS."
About ZH Healthcare, Inc.
ZH Healthcare (dba/ blueEHR)  is a healthcare technology innovator that is revolutionizing health IT with blueEHR® – Health IT as a Service (HITaaS)®, a cloud-based healthcare specific software development and infrastructure environment that empowers users to build and deploy eHealth solutions quick and efficient. blueEHR, an advanced EHR system borne out of HITaaS is used by thousands of healthcare providers, staff, health systems, startups, and IT companies in 100+ countries and 36 languages