blueEHR®Health IT Platform awarded Public Health Management Corporation contract
Feb 20 , 2020
blueEHR®Health IT Platform awarded Public Health Management Corporation contract
blueEHR Integrated Care Solution is selected by PHMC, one of the largest and most comprehensive public health organizations in the nation, to integrate services and streamline care.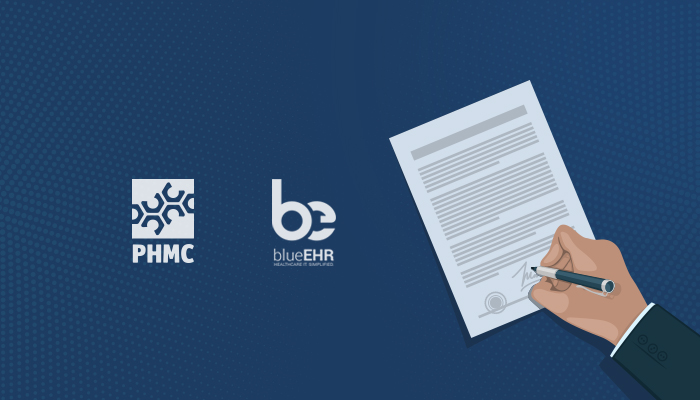 Bethesda, MD, February 20, 2020– ZH Healthcare announced that Public Health Management Corporation (PHMC) – a non-profit public health institute, has awarded ZH Healthcare a contract for its SaaS offering, blueEHR® -HITaaS, a next-generation Health IT platform that empowers healthcare organizations to quickly build and deploy enterprise health IT solutions. The cloud-based platform, blueEHR®-HITaaS has become the predominant solution for organizations delivering integrated care.
blueEHR will enable PHMC to integrate its comprehensive set of services that include primary and behavioral health care, addiction services, health promotion, and child and family social services across inpatient, outpatient and residential care settings. The platform is built to adapt to future growth in additional clinical and operational areas. With more than 3000 employees, hundreds of programs and a network of subsidiary organizations PHMC is one of the largest and most comprehensive public health organizations in the country.
The platform enables PHMC to not only achieve a single integrated comprehensive longitudinal electronic health record (EHR) for its clients, but it is also expected to deliver enhanced patient outcomes and increase operational efficiencies. The blueEHR platform achieves this through:
A core of configurable modules that cover the eHealth spectrum.
Pre-established connectivity to a large swathe of the healthcare ecosystem – including payers, prescription networks, labs, health information exchanges, registries and much more.
A software development environment that allows for the rapid construction of additional modules and features to meet customer and organizational needs.
All components delivered on a secure scalable cloud infrastructure.
"PHMC is excited to partner with ZH Healthcare to develop an integrated, first-of-its-kind health platform to support our broad continuum of public health programs and services," said Mike McCain, PHMC's Chief Information Officer. "The ZH Healthcare team has been a terrific partner to help guide this transformation for our organization".

"A health IT platform is the only solution for integrated care organizations that are highly complex with multiple specialties and care delivery models in a high growth trajectory.  A static and rigid system limits the potential and promise of such organizations. The Health IT Platform is the future." said Shameem C Hameed, Chairman & CEO of blueEHR.
For more information on the blueEHR HIT Platform please click here.
About ZH Healthcare, Inc.
ZH Healthcare is a healthcare technology innovator that is revolutionizing health IT with blueEHR® – Health IT as a Service (HITaaS)®, a cloud-based healthcare specific software development and infrastructure environment that empowers users to build and deploy eHealth solutions quickly and efficiently. blueEHR, an advanced customizable EHR system is borne out of HITaaS is used by thousands of healthcare providers, staff, health systems, start-ups, and IT companies in 100+ countries.
About Public Health Management Corporation
Public Health Management Corporation (PHMC) is a nonprofit public health institute that creates and sustains healthier communities. PHMC uses best practices and evidence-based guidelines to improve community health through direct service, partnership, innovation, policy, research, technical assistance and a prepared workforce. PHMC has served the region since 1972. For more information on PHMC, visit www.phmc.org.
Media Contact for ZH Healthcare:
Kapil Nandakumar
www.blueehr.com
Office: 703-340-8065 x 3003
Email: kapil@zhservices.com
Media Contact for Public Health Management Corporation:
Name: Patty Griffin
Title: Managing Director, Communications
Phone: 267-773-4342
Email: pgriffin@phmc.org